Sorry if yesterday was depressing. Today, I want to talk about my favorite musician: Elton John.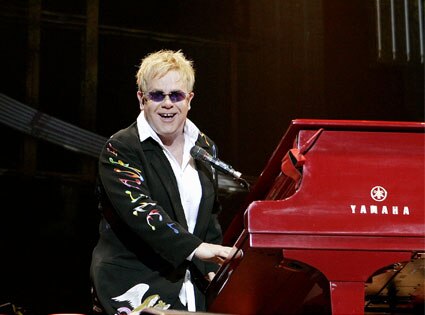 I think part of what draws me to Elton John is the fact that he plays piano. I'm a child of the 90s, so my introduction to him was probably his work on
The Lion King
. They were also playing some of his pop hits on the radio like "The One," "Sacrifice," "Believe," "Blessed," and "Can You Feel the Love Tonight."
As the years dragged on and I decided that I didn't like the current pop music (it all sounds the same), I gravitated toward classic rock. I started to pick up Elton's older music. My favorite album of his is still
Goodbye Yellow Brick Road
with his self titled
Elton John
,
Tumbleweed Collection
and
Captain Fantasic and the Brown Dirt Cowboy
rounding out my favorites. I also really liked the album he put out awhile back
Songs from the West Coast
which featured his surprise hit "I Want Love" although my favorite track off of it is "Wasteland."
I've even seen him in concert twice, both in 2003. I got bad seats to see him and Billy Joel at the Bradley Center for $60. Four hour concert. Completely awesome.
Then I went to see him at the 100th anniversary of Harley Davidson concert. I know lots of people were disappointed....BUT NOT ME!!!! HA HA HA!
If I had money, I would buy the Yamaha limited edition Elton John Red Piano but it's only $50,000 so I don't think I'm getting it any time soon. Yamaha pianos are like the best pianos ever. We'll talk more about pianos when we get to "p."