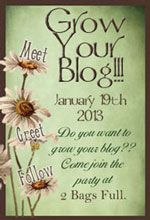 Hi, welcome to my blog those of you joining me for the Grow Your Blog Party! My name is Joy and I started blogging back in the fall of 2009. I got married in February 2009 and packed up everything and moved to Texas from Wisconsin leaving all my friends and family behind. My husband and I were expecting our first child but we were working opposite shifts at a call center to accommodate his teenage daughter from a previous marriage so we didn't have to leave her alone and could transport her to and from school. I was feeling a bit sad and depressed so I would sit around cross stitching and loom knitting while watching tv on Hulu because my husband was never home when I was. I joined a cross stitch group on Yahoo and soon started this blog. It's really got me through some difficult times.
I was laid off June 2012 and at that time I decided to start designing my own cross stitch. I don't have a lot of designs but they are all free at the moment and you can visit my second blog at
http://solascripturaneedlework.wordpress.com
. I also have a cooking blog that I rarely use as well.
The topics of conversation on this blog generally are:
Cross stitch
Loom Knitting
Book's I've Read
I predict stitching will slow down once I start graduate school which should be this summer. But being unemployed, I've had more stitching time than usual. At the moment, I'm working on making one ornament per year for each of my daughters. The biggest challenge is my stepdaughter who is 15 as I'm having to catch up on 15 ornaments.